UBS May Slash 36,000 Positions Following Credit Suisse Takeover
The forced bail-in sale of Credit Suisse to UBS will lead to a staggering number of job cuts, ranging from 20% to 30%, which equates to a reduction of approximately 25,000 to 36,000 positions, as reported by SonntagsZeitung newspaper, quoting insiders.
Earlier this month, UBS agreed to acquire its struggling competitor Credit Suisse for 3 billion Swiss francs ($3.3 billion). Before the takeover, Credit Suisse was already undergoing restructuring, which involved letting go over 9,000 staff members. The expected job cuts after the takeover are now considerably greater than initially estimated.
According to the Swiss newspaper, as many as 11,000 employees may face layoffs in Switzerland. The combined workforce of the two banks topped 125,000 at the end of 2022, with nearly 30% of these employees based in Switzerland. Also, a number of jobs at its US investment bank unit will be affected.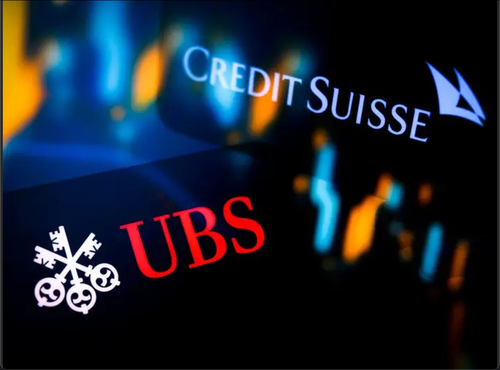 Although layoffs are imminent, UBS has yet to provide any specific timeline for these cost-cutting measures, which hasn't stopped anxious Credit Suisse employees from contacting Deutsche Bank AG, Citigroup Inc., and JPMorgan Chase & Co. for new employment opportunities. Meanwhile, Nomura has said it has 'no intentions' of hiring Credit Suisse employees.
Separately, in a surprise announcement last week, UBS announced its previous head, Sergio Ermotti, will reassume the role of CEO on Wednesday to supervise the merger. We suspect that once Ermotti assumes control of the biggest banks in Switzerland, the firings may begin.