Alphabet Shares Slide On Report Samsung Abandoning Google For Bing
Shares of Alphabet slid during premarket trading in New York on Monday following a New York Times report on Sunday that revealed South Korean consumer electronics giant Samsung was considering replacing Google with Microsoft's Bing as the default search engine on its devices.
NYT said Google's employees were "shocked" when they heard about the news in March. Internal memos obtained by the newspaper reveal Google has been in "panic" mode because if Samsung were to switch search engines on its devices to Bing, that would cost them $3 billion in annual revenues. Google also has about $20 billion at stake in Apple contracts up for renewal this year.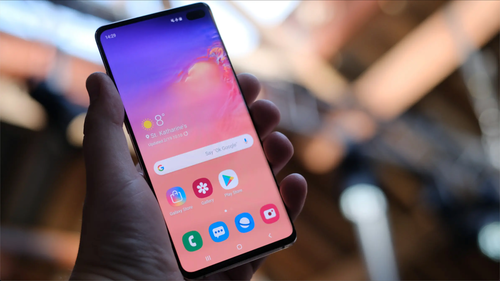 Microsoft turbocharged Bing by integrating OpenAI's ChatGPT technology, transforming the search engine into something capable of carrying on a conversation. This new type of search engine is one of the most serious threats to Google's search business empire. As a result, Google has been racing to build an all-new search engine powered by AI. NYT said internal documents show Google is upgrading the existing search engine with AI.
The Samsung threat represented the first potential crack in Google's seemingly impregnable search business, which was worth $162 billion last year. Although it was not clear whether Microsoft's work with AI was the main reason Samsung was considering a change after the last 12 years, that was the assumption inside Google. The contract is under negotiation, and Samsung could stick with Google.

But the idea that Samsung, which makes hundreds of millions of smartphones with Google's Android software every year, would even consider switching search engines shocked Google's employees. -NYT
As a result of the report, Alphabet shares slid as much as 3%, while Microsoft was up around 1.5%.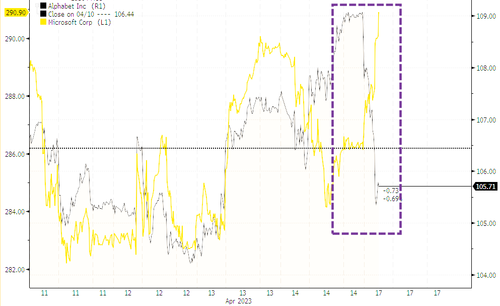 So now Google is scrambling to compete with Microsoft's Bing after ChatGPT integration. Did Google get lazy because they thought their search empire was impenetrable?